There are lots of Tiger Safari resorts in India which provide outstanding and unforgettable wildlife experience. Most resorts inside the Tiger reserves are overwhelmed with lush greenery and its scenic beauty providing best Tiger Safari in India. These resorts give one a chance to watch animals in their natural habitat, spend luxury hours with nature, hear the mesmerizing chirping of birds, along with other ecotourism activities. If you, too, want some relaxing hours in the lap of mother nature, then go through the given tiger Safari resorts and plan your trip. 
Ranthambore National Resort, Rajasthan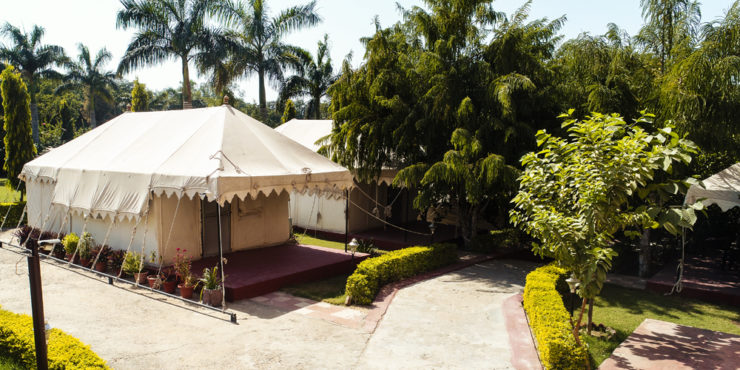 It is one of the luxurious resorts situated close to Ranthambore National Park. The hotel is just 10 minutes drive away from the park. The rooms of the hotel are well associated with free wi-fi connection, intercom, air-conditioning, and other basic amenities. It also offers Family swimming pool, Ayurvedic spa, and massage services for its guests. One can also host events here as large lawns and conference halls are also available. The chefs here use freshly picked ingredients to give your taste buds a unique experience. So next time you plan a tiger safari in Rajasthan, do visit Ranthambore National Resort which is one of the best tiger safari resorts in India.n
The Corbett View Resort in Jim Corbett, Uttarakhand
It is the best Tiger Safari resorts in India to experience wildlife closely. The hotel offers A/C Luxury huts and The Deluxe Rooms with balconies. The resort provides safari facilities along with many jungle adventures.
The Sariska Palace, Rajasthan
The  Sariska Palace was built for the Maharaja of Alwar on the borders of Sariska National Park. The architecture and interior of the Sariska palace is a mixture of Rajasthani and French styles with modern facilities. It offers royal stay with spacious rooms, bar, and famous world cuisines in one of the best tiger safari resorts in India. 
Samode Safari Lodge, Bandhavgarh
The lodge is a 15-minute drive away from the first zone of Bandhavgarh Tiger Reserve, i.e., Tala Gate, which is known for excellent tiger sightseeing. The lodge offers cottages with spacious lounge, bedrooms with modern amenities, and private individual balconies overlooking nature and its wildest beauty. 
Earth Lodge Kanha
This lodge is not only eco-friendly but a perfect treat for the travel lovers. With span area of 16 acres, The Kanha Earth Lodge lies connecting to the buffer of The Kanha Tiger Reserve offering the best Tiger Safari in India. The resort offers 12 open bungalows and suites with private sitting area, biking, and spotting wildlife around resort trails, nature view, Indian and Continental cuisines, and other adventurous activities nearby.
Ambrra River Resort, Tamil Nadu
The resort is located on the bank of the river Ambaravathy which is 10 km away from Pollachi, 46 km from Coimbatore, and 50 km from Palghat. The resort is built with a vision to make tourists enjoy nature and best experience of  Tiger Safari in India.
The hotel provides various facilities such as well furnished deluxe A/C rooms, balconies viewing river, rooms equipped with TV, Fridge and coffee maker, swimming pool, park for kids, Multi-cuisine restaurant, and most importantly cool and quiet environment.
Aman-I-Khas, Rajasthan
At Aman-I-Khas, one gets an opportunity to spend an easy hour in tents surrounded by wilderness where one can hear only birds' chirping sounds in a quiet environment. The tents have risen enough to get airy living with attached bathrooms. The government approved guides will take you for a tiger safari twice daily, once in the morning and late afternoon. Here you will find a separate dining tent where food is prepared using organic ingredients grown in the surrounded area of camp. This resort will give you the best holiday experience with memorable Tiger safari in India.
Tusker Trails, Karnataka
Tusker Trails, best Tiger Safari resort in Karnataka for Wildlife lovers. It has a 7-acre garden and six cottages lushed with lavish interiors and private balconies, double bedrooms, and modern amenities. The resort along with best Tiger Safari in India offers a swimming pool, picnic spot, and a meal in the open air to enjoy with friends and family. Trekking and jungle safari arranged by the team on the request made by guests.
Sunderban Mangrove Retreat, West Bengal
Sunderban Mangrove Retreat is located in the Jamespore village of Satjelia island in West Bengal to give one the best experience of Tiger safari in India. This resort is mainly built to give one feel of living in the lap of nature with lavish and eco-friendly amenities. The hotel offers a peaceful environment with nearby river view, tiger spotting, jungle safari, adjoining mangrove forest view, etc. 
Kaziranga Resort, Assam
To make visitors stay and Tiger Safari in India delightful, the Kaziranga Resort was built in 2008 close to Kaziranga National Park. The resort offers three Executive Rooms, two Premium Cottages, and three Deluxe Rooms. The architecture, location, design, and world-class facilities of the hotel give one an unforgetful memory along with other adventurous activities at the park.
Hope you enjoyed reading this article. For more knowledge regarding best Tiger Safari resorts in India read our upcoming articles.