Small bathrooms are the in-thing right now. They offer a minimalist appeal and yet the design is surprisingly effective and gorgeous. Good thing, there's no shortage of awesome small bathroom Glass Shower Doors ideas out there to glean some inspiration from.
Whether you want to stick to traditional grays and whites or go for bold, bright hues, the color palette for a small bathroom is simply unlimited. And so are shower door designs.
However, if you truly want to transform your small bathroom into something superb, be sure to opt for a glass shower door. It's not only beautiful and stylish but can also add a sense of space and brightness to any tiny space.
The bigger question now is: which type of glass door is best for your bathroom? Should you choose framed or frameless, sliding or fixed? Say goodbye to your mundane shower curtain with the following 10 types of glass doors suitable for a small bathroom shower.
1. Frameless Glass Shower Doors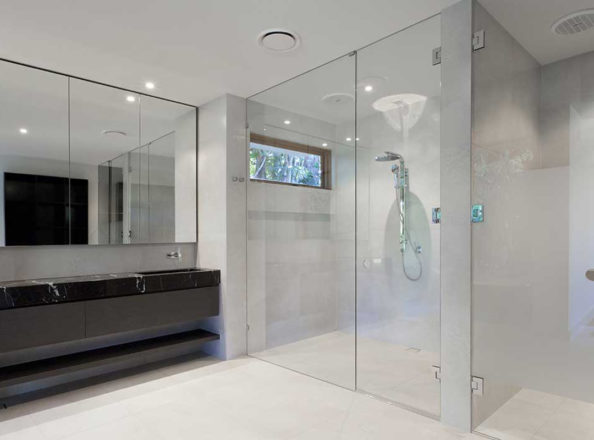 If you want to create a seamless, interactive flow in your bathroom, you might want to consider installing a frameless glass door. This is a type of door that comprises just one pane that is pivoted out into the bathroom, creating a clean, contemporary look and feel. It doesn't have any fixtures, hardware, and whatnot, leaving the glass to take center-stage.
What you will love about frameless glass shower doors is that they are stylish and elegant. They are also quite durable, easy to clean, and structurally superb. It is one of the best small bathroom ideas with shower only. Without frames, the glass creates a smooth and unobstructed view from outside to inside the shower.
The other draw of frameless glass shower doors is that they can be tailored to any size so they can fit your style, bathroom decor, and needs. In other words, they aren't restricted to standard sizes and therefore are more versatile than framed versions.
The icing on the cake is probably the fact that you don't have to worry about corrosion-prone metal hardware. And the transparency of the shower space creates an illusion of a bigger bathroom. On the flip side, frameless and glass cabinet doors can be a little expensive and the pane can easily shatter if the glass is of inferior quality.
The trick is to source your pane from a reputable glass store, and have a professional install it to prevent chances of leaks and make sure the shower head is positioned properly.
2. Semi-Frameless Glass Shower Doors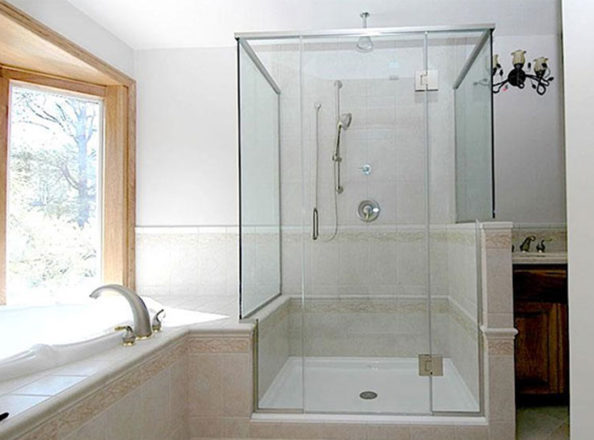 Some homeowners prefer to have a frame around their shower doors, which usually works better for larger bathrooms. But not so much for a minimalist bathroom space.  In fact, thick or heavy frames can turn your glass door into an eyesore. To make matters worse, metal frames and hardware tend to be affected by corrosion and bear the brunt of poor cleaning and maintenance.
However, if you must have a framed door for whatever reason, it might be prudent to go for a semi-frameless glass door for your shower. This is a type that features a large pane with a thin, narrow frame around it. The frame can be constructed from composite materials, wood or metal.
When it comes to semi-frameless shower doors, the larger the glass panel, the brighter and more spacious your bathroom will appear. The good news is that these glass doors come in several styles and designs. For some designs, the glass panel may not be surrounded by a frame, but the door unit itself has a perimeter frame.
What makes this type so amazing for a small bathroom?
Semi-frameless doors are versatile – they offer the best of framed and frameless shower doors.
They are stylish and elegant because of the combination of glass and clean, narrow frame design.
They can easily be customized to meet the needs of any bathroom
They marry well with a minimalist lifestyle
3. Bi-Fold Shower Doors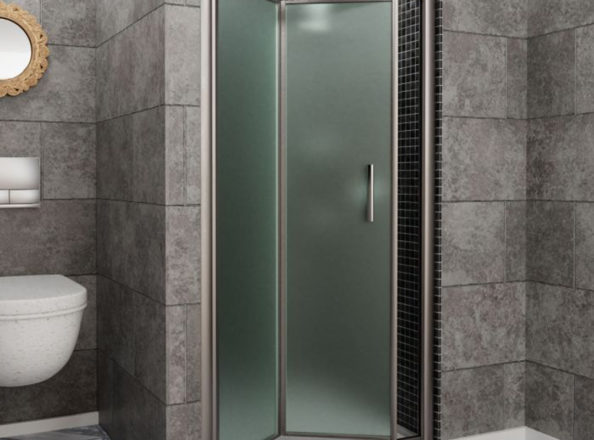 If you have a shower-only bathroom, bi-fold glass shower door might be what the doctor prescribed. They are best suited for a bathroom with a small space. The beauty of bifold doors lies behind the fact that they bring the best of the two worlds — the sturdiness of hinged doors and the style/convenience of sliding glass doors.
More specifically, the door folds into the shower, making it easy for you to make the most of your limited space. This is especially crucial for something like a corner bathroom. If installed properly, they can also add a modern touch to the bathroom space.
Why bifold glass doors are a match made in heaven with small bathrooms?
They are an ideal solution for tiny spaces, allowing you to use every possible inch of the bathroom.
They are easy to maintain
They are quite affordable to purchase glass/materials and install them.
Bifold are stylish, versatile, secure and pleasantly practical
4. Curved Glass Door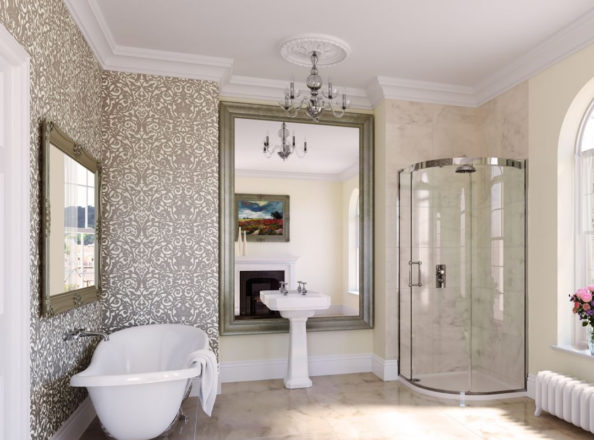 Tiny baths can feel claustrophobic and seem dull. If you want to open up your shower space and give a sense of a bigger room, you can install a curved glass shower door. Most of these doors come with a frame at the bottom and top of it. Even still, the shower will look unique, feel fantastic when you're showering, and won't need more space.
Why the curved shower glass door for your bathroom?
They are perfect for a walk-in type shower, which is often great for small bathrooms
They take the hassle out of cleaning around the shower door
They offer a modern appeal and create a sense of larger space
The downside, however, is that bent or curved glass doors can be pricey.
5. Alcove Glass Doors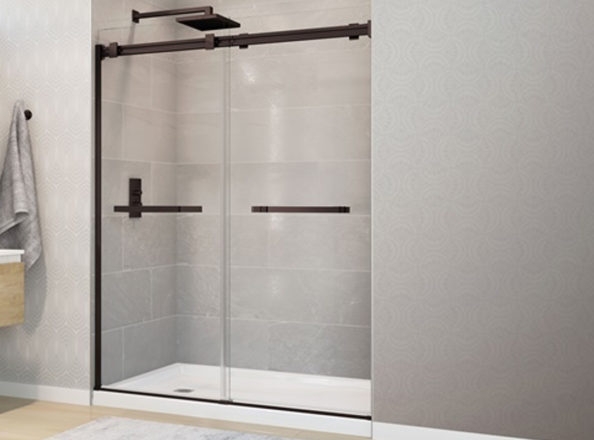 If you have a small space bathroom but still want a shower, then an alcove glass door might be your best bet. This type of glass shower door typically requires very little space. While it might not appear as open as other glass door option, it can ooze luxury and can add a decorative element to your bathroom.
Why you'll love the alcove glass door in your bathroom shower?
They can instantly transform any bathroom space
They take up very small space and yet look luxurious
Can add some pizzazz and oomph to your bathroom
The only turn-off for minimalist lovers is the fact that these doors come with hinges on one side.
Best Glass Style for Shower Doors in Small Bathroom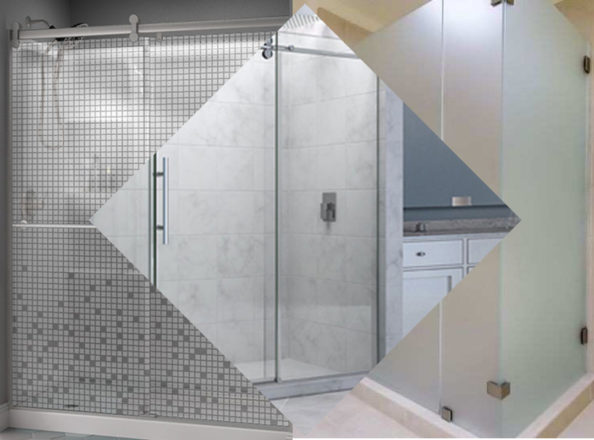 (a) Clear Glass Doors
As you're already aware, clear glass doors offer a clean, clear view out and into the shower room. This is a perfect type of door for folks who live on their own. They are a big no-no for shared or family bathrooms.
(b) Frosted Glass Doors
These are an ideal solution for those who aren't comfortable with the transparency of clear glass. They let light in and keep peeping toms at bay. You must clean them regularly, however, to enjoy that feeling of bigger space associated with glass doors.
(c) Patterned Glass Doors
They are what they sound like: glass shower doors that feature uniform or mixed patterns, from flowers to trees and everything in between. You might want to give your choice of pattern a second thought.